Blogs - Learning Technology
Understanding 4R Cloud Strategy
21 September, 2021
Reading Time: 5 min
Introduction
Cloud computing is one of the fastest-growing technology trends. It has seen enormous popularity and massive growth over the past few years. It plays a significant role for the education sector in enhancing the learning experience of students. Furthermore, it makes content easily accessible while reducing cost at the same time. Migrating the learning experience from on-prem to the cloud ensures that the learning content is in sync and facilitates the collaboration of students and faculty members across geographies.
Many tech professionals are adopting this smart business move for cloud engineering and to migrate their resources to the cloud environment. Many large enterprises successfully migrated their resources/infrastructure to the cloud in recent years. On the other hand, many start-ups and IT leaders find it challenging to migrate their workloads to the cloud environment. Migration could bring a lot of benefits if followed by a well-planned strategy. Otherwise, you will face several difficulties and may end up spending a year or longer to complete the migration successfully. Magic EdTech has restructured the existing 5, 6, and 7 R strategies to design a 4R cloud migration strategy after observing the challenges in the EdTech domain. This 4R strategy solves several general migration challenges and helps to build a robust cloud architecture.
Let's take a quick look into the four critical steps of a cloud migration process.
The 4 R's of the Cloud Migration Strategy
Smooth integration between the cloud and on-prem (existing) structure is one of the top challenges for enterprises. Downtime and data loss are the two risks that you should be aware of. Practice the following 4R's of cloud migration strategy to design the migration process successfully.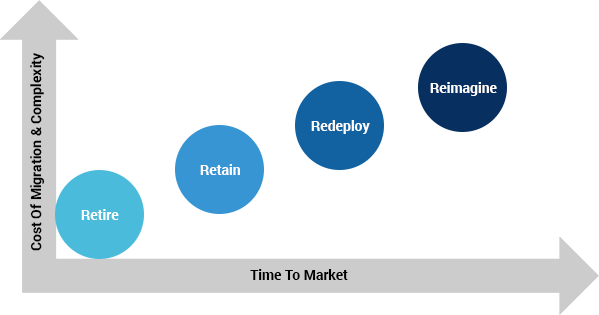 Reimagine
Reimagine is the process of refactoring, rearchitecting, and redevelopment of the application architecture and development process. It is driven by a strong business need to improve factors like performance, reliability, features addition, and scalability.  It would be otherwise difficult to achieve all these objectives with the existing application environment. Application or services are refactored by following the reimagined application architecture plan. This strategy breaks down the application's components into smaller building blocks or microservice and wraps them into containers for further deployment on the cloud service platform.
This strategy leads to a higher transformational cost but can also be very effective if you have a good product-market fit.
Redeploy
Magic EdTech uses a redeploy strategy for transitioning from one environment to another when we want minor or zero modifications of the existing infrastructure. Since this strategy does not change the core architecture of the application, the transition effort and cost are relatively low. Redeploying can often be done using a variety of lift-and-shift or cloud-provided migration tools. 
Retain
This strategy is also known as a revisit. This strategy keeps only the business-critical applications. Keep applications critical for business but require complete refactoring or feature enhancement before migration to a new environment. We can revisit all those workloads or applications that fall in this category later.
Retire
With the breakthrough in technology, several Magic EdTech applications and services are changing rapidly and becoming outdated very fast. So, in this case, we have identified several workloads and applications that are no longer needed to run the business effectively. Retire strategy removes applications that are no longer in use. Perform a quick scan or discovery of your environment to find out the least used workloads or applications. Once you have completed the discovery, ask who owns those workloads. Turn off IT portfolios that are not in use. This strategy boosts Magic EdTech business cases, directs the team's attention to workloads that people use more often, and reduces the number of workloads we have to secure.
Conclusion
Being in the EdTech domain for more than 30 years, we understand the fast-changing EdTech domain and the importance of Cloud in the EdTech market. Based on our experience, our experts have tailored cloud migration strategies into four categories. These strategies help decide the right approach for cloud migration that eventually helps our partners save a lot of money and build highly available, scalable, and secured applications and services.
Explore the latest insights