About the Event
Experience the world of accessible digital reading through the lens of ePub files. Discover the power of inclusive publishing, learn techniques for creating ePub content that caters to diverse audiences, and explore the tools that enhance the accessibility of digital reading experiences.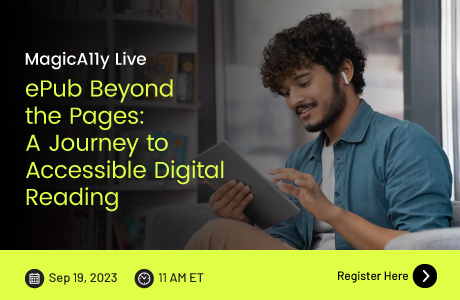 Takeaways from this event
Gain insights into creating inclusive digital reading materials that cater to individuals with various disabilities, ensuring a wider reach and better user experience.
Learn practical strategies and techniques to create accessible ePub files,including semantic structuring, alt text usage, and compatibility with screen readers.
Explore a range of tools and resources available to assess the accessibility of your ePub files, enabling you to identify issues and implement enhancements that align with accessibility standards and guidelines. Key Takeaways
Your Hosts
Erin Evans

Director of Accessibility

Tarveen Kaur

Head Accessibility Service

Anjali Lalwani

Specializing in Accessibility
View the Session
Watch the full video and other material from this event. Fill out the form below.