Blogs - Learning Technology
Exploring Moodle Solutions
17 March, 2023
Reading Time: 3 minutes
Moodle is a popular learning management system used by educators and trainers around the world. The term Moodle stands for Modular Object-Oriented Dynamic Learning Environment. It is an open-source platform that allows for the creation and delivery of online courses, as well as the management of online learning environments.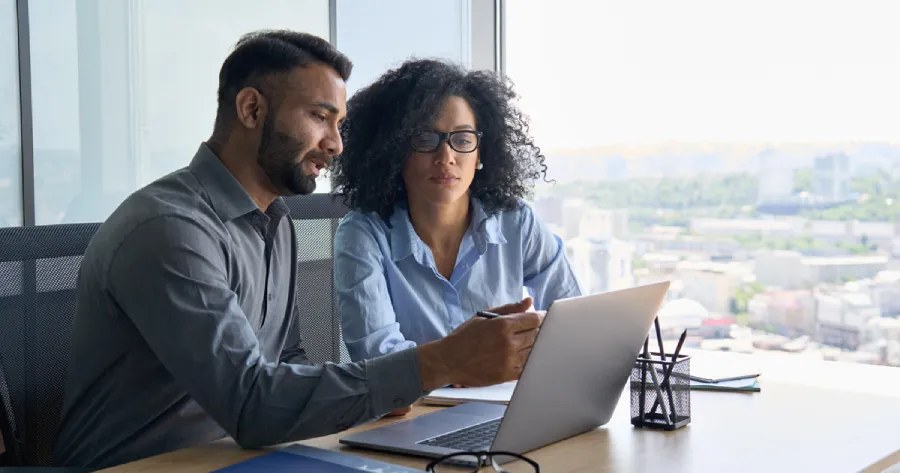 There are various solutions available for deploying Moodle, including self-hosted, cloud-based, and enterprise-level solutions, we've listed them below.
Self-Hosted Moodle
Self-Hosted Moodle is free, open-source, and downloadable, but requires self-hosting, which means users need to have technical expertise in Moodle and DevOps to set up and manage the server, install security patches, and backups. However, self-hosted Moodle gives greater control over your data and allows you to fully customize your learning environment.
MoodleCloud – Off-the-shelf Hosting Plans
MoodleCloud is a cloud-based hosting solution that is easy to set up and use, making it a great option for small to medium-sized organizations. MoodleCloud offers off-the-shelf hosting plans, which come with a range of features and customization options. The team can choose from various plans based on the number of users you need to support.
MoodleCloud – Premium Hosting Solution
MoodleCloud also offers a premium hosting solution for organizations that require more advanced features and customization options. This option is designed for larger organizations that need to support a large number of users or require specialized integrations. MoodleCloud's premium hosting solution provides more control over the environment, including access to additional plugins and customizations.
Moodle Workplace
Moodle Workplace is a version of Moodle designed specifically for corporate training and professional development. It includes additional features such as competencies, performance management, and compliance tracking. Moodle Workplace can be hosted on its own servers or can use a hosting provider.
Choosing the Right Moodle For You
While Moodle offers a wide range of features and capabilities, choosing the right option can be tricky. Below are a few capabilities and limitations of different Moodle deployment options based on installation and deployment, customizability,  and maintenance cost to ease out the choice.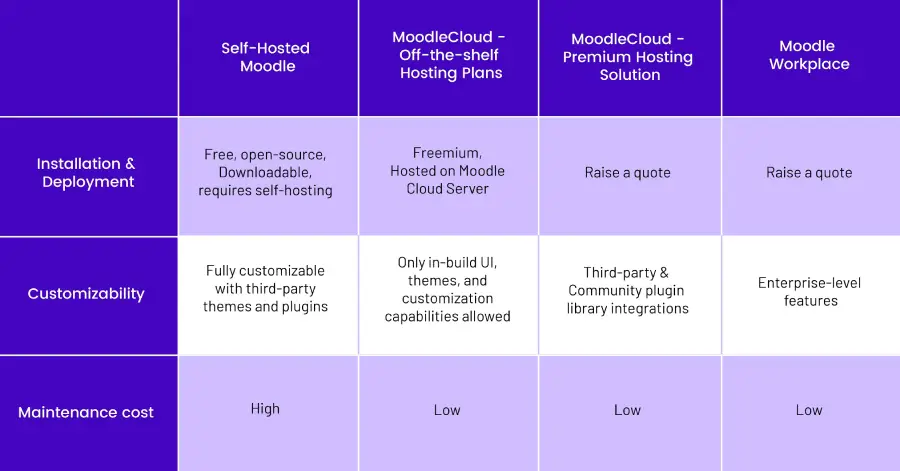 Self-Hosted Moodle is suitable for self-hosted learning sites that require a high level of customization and technical expertise. MoodleCloud – Off-the-shelf Hosting Plans are suitable for proof of concept, in-house apps, and new Moodle users who are less technically inclined. MoodleCloud – Premium Hosting solution is suitable for institutions or organizations that require a ready-made solution to support millions of users. Moodle Workplace is suitable for enterprise learning management platforms that require a scalable, customizable, and secure LMS.
In conclusion, Moodle is a versatile learning management system with a range of hosting options to suit a variety of needs and budgets.
Are you looking for a discussion on moodle based platform? Contact us today to learn more.