Blogs - Trending Topics
How Low-Code and No-Code Development Platforms Can Transform Learning
7 March, 2023
Reading Time: 4 minutes
As the software development cycle gets faster and more automated, the demand for low-code and no-code development platforms is growing. These platforms let users with little or no coding experience create applications, which speeds up development and deployment.
Platforms now allow both programmers and non-programmers to build applications in a drag-and-drop fashion. These can be created with little-to-no-coding and one-click deployments, providing an efficient alternative to the traditional development and deployment process.
A Gartner report states that by 2025, 70% of new applications developed by enterprises will use or embed low-code or no-code technologies.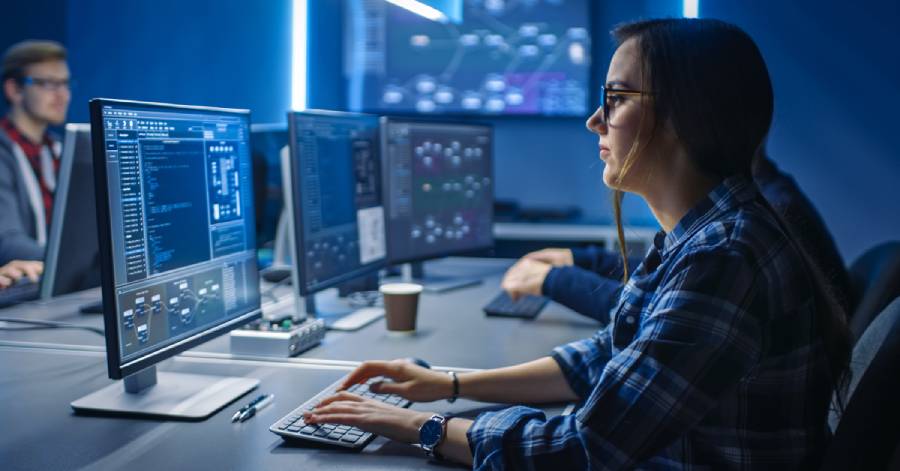 The difference between low-code and no-code platforms
Low-code platforms allow developers with minimal coding skills to develop great applications. A few low-code development platforms available in the market are OutSystems, Zoho Creator, Microsoft PowerApps, and Appian Low-Code Platform.
No-code platforms offer drag-and-drop tools that help develop software easily without coding. A few no-code development platforms available in the market are Amazon Honeycode, AppInstitute, Appy Pie, and BuildFire.
When Should You Consider low-code or no-code platforms?
1) Cost-effective App Development – The cost of producing an application with a low-code, no-code platform is incredibly low due to the short development cycle, fast speed, and fewer resource requirements. This works great when you're looking to build a smaller, less complex app like eLearning widgets or add-ons on a tight budget.
2) Quicker Development – The main benefit of low-code, no-code app development is the way it reduces development time. The application can be released more quickly and work quickly to incorporate customer inputs and add additional features.
3) Minimal Coding – These platforms aid in replacing the alternate development method that necessitates writing thousands of lines of code with a visual approach.
4) Quick Deployment – Platforms help in overcoming the delayed deployment time which occurs due to  slow development speed
Shortcomings of Low-Code or No-Code Platforms:
1) Limitations in customization – These platforms restrict users from working within their boundaries and provide minimal scope for customization and adding out-of-the-box features.
2) Community support – Many of the available platforms need more community support and assistance in understanding these tools.
Selecting the Right Low-Code/No-Code Platforms:
The three broad-level steps outlined below can help you choose the best low-code/no-code platforms.:
1. Determining business needs:
It is preferable to first understand the application requirements in terms of use cases and expected business outcomes.
The non-functional requirements associated with the demand, such as security, observability, and performance, should also be understood. There may be instances where security is a critical aspect of a proposed platform, and the client may have their own security rules and compliance associated with the requirement. Custom development may be required in such cases to meet such requirements.
2. Analyze:
Once the above understanding of the business and its requirements has been completed, all available Low-Code / No-Code Platforms can be compared to see which one best meets the requirements.
Conduct proofs of concept with success criteria to determine feasibility and put them to the test against the most likely complex scenarios
It is critical to comprehend the platform's scalability. Many template-driven platforms have customization limitations, which may cost you more time and effort to develop.
Checking for community support is an important factor. What kind of community support are these platforms getting? Is it comprehensive or limited?
3. Validation and Selection:
Once the above shortlisting is complete, the final filtering can be done based on Price evaluation, which will be the deciding factor in securing the right platform at the right price.
Scenarios That Warrant Low-Code or No-Code Platforms
Based on the benefits and limitations of these platforms, it is more appropriate to use these in software where the focus is on functionality rather than UI experiences, such as any basic prototype application, an organization's internal application development, and any admin panel. Wherever the request is to go and establish a product in the market with the best end-user experience and meet non-functional requirements, it should be done with a more planned and scalable solution.
There is no question that these technologies are revolutionizing businesses and giving them the competitive edge they need to meet the demands of today's marketplace. Low-code and no-code platforms allow companies to modernize existing applications or quickly build and deploy new ones. If you are considering this approach, make sure that you get in touch with the right organization that can provide low-code or no-code solutions with rich features for web and mobile application platform development.