The Partner of Choice for Schools, Educational Publishers, and EdTech Companies
We support you with personalized and accessible learning experiences that engage students, empower teachers, and inform parents.
Solutions We Offer
Construct personalized solutions that empower learners to achieve the best learning outcomes. We provide edtech companies, K-12 publishers, and institutions with the advisory, content, and technology solutions they need to accomplish their goals.
Solve
Consulting and content services to fast-track and improve learning initiatives.
Build
Create, upgrade, or transform learning products and platforms.
Deliver
Sharpen the distribution of learning content with our in-house products, MagicBox and MagicSync.
Support
Meet the challenging requirements of maintaining and safeguarding student learning ecosystems.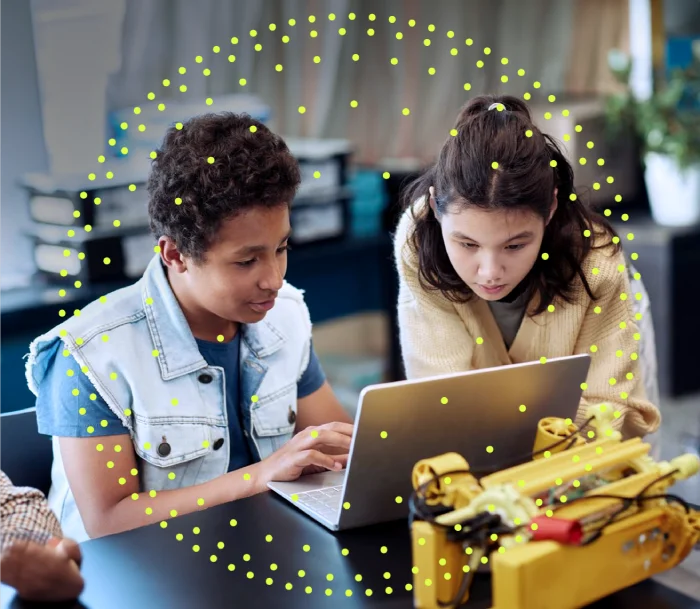 Cognify Learning with DeepSight
Tap into the power of Generative AI to personalize the learning journey and speed up go-to-market timelines.
Long-Lasting Partnerships
Clients served over the past three decades. Find out what keeps them coming back to us.
"I wanted to send a thank you for your help thus far with the animation development for our Patient Care Technician course. Your team has been extremely great to work with! Your help getting this project started on time, delivering exceptional illustrations that aligned with our vision, and delivering on time, sometimes ahead of schedule, has been phenomenal. The quality is exactly what we were looking for on this project. With the latest delivery for the Lesson 8 animation, our Learning Designer and Subject Matter Expert both stated that "it gave me goosebumps." Your ability to convey the emotions through the animated characters is incredible and powerful. Outstanding job team, you truly are Magic!"

— Nicholas Northrip
Course Development Manager, Ed2Go at Cengage Group

"I've had the pleasure of working with the team at Magic for several years, over several projects, and the experience has been outstanding. Magic has provided us with several critical services, including developing reasonably simple digital games, developing highly complicated and involved interactive simulations, upgrading and improving existing digital content, and translation services for our science and math education materials. I have enjoyed working with Magic, and I look forward to working with them for the foreseeable future."

— Jason Maxwell
Vice President at Accelerate Learning, Inc.

"In 2020, we had an opportunity to make significant investments in our technology. That required engineering talent beyond our capacity. Recognizing that the projects spanned different aspects of our business, it was important that we engage with a firm that had significant Education Technology expertise. We reviewed proposals from several engineering firms and found that Magic Software offered a mix of domain and technical expertise to meet our needs. In the past six months, Magic EdTech has helped us on several projects and promise to be a factor in our continued success."

— Mike Rodbell
Vice President, Technology at Explore Learning

"Magic EdTech has become an invaluable partner to StudySync, providing accessibility and web publishing services with skill, precision, and expediency, beyond what we ever imagined. Our Magic team is a delight to work with and is incredibly thorough in flawlessly managing and executing the abundance of tasks we ask of them. Communication and responsiveness are top-notch. Magic has helped reduce managerial burden, and a great deal of staff stress. My only hesitation in endorsing Magic is that I want them all to myself!"

— Jay King
COO at StudySync

"I have been working with the Magic team since 2017 as a solutions manager for Pearson Education. They have been an essential partner, helping us to develop a brand new authoring tool. They are consistently a professional, caring, and dedicated team to work with. We absolutely could not be where we are today without their hard work."

— Kira Marbit
Narrative Authoring Solutions Manager at Pearson

"Let me re-iterate how entirely impressed I am with the speed, quality, and professionalism of this project. I've been contracting with tech vendors in some fashion for more than 2 decades here in NYC. I have never had one that matched your team's standards. Thank You!"

— Traci Schwinn
Research Scientist at Columbia University

"Magic EdTech were terrific partners on a video project we did together. Not only was the final product of a fantastic quality, but they were responsive, adaptable, and transparent throughout the process, and generous in the time they took to discuss, research, and propose solutions whenever challenges arose."

— Jake Schindel
Editor & Vice President at W. W. Norton & Company