Blogs - Trending Topics
Aligning BA and UX Teams for Better Digital Learning Products
2 December, 2022
Reading Time: 5 mins
Creating great applications that people want to use on a regular basis is a very challenging task these days. To simplify this, product teams are usually split into separate buckets: the User Experience (UX) teams and the Business Analyst (BA) teams. It's no secret that both UX and BA are critical to a successful application launch. But, do these two departments need to work in lockstep to get there? How can both teams work together better? In this blog, we examine how the BA and UX teams can be more effective by working together in an application development process.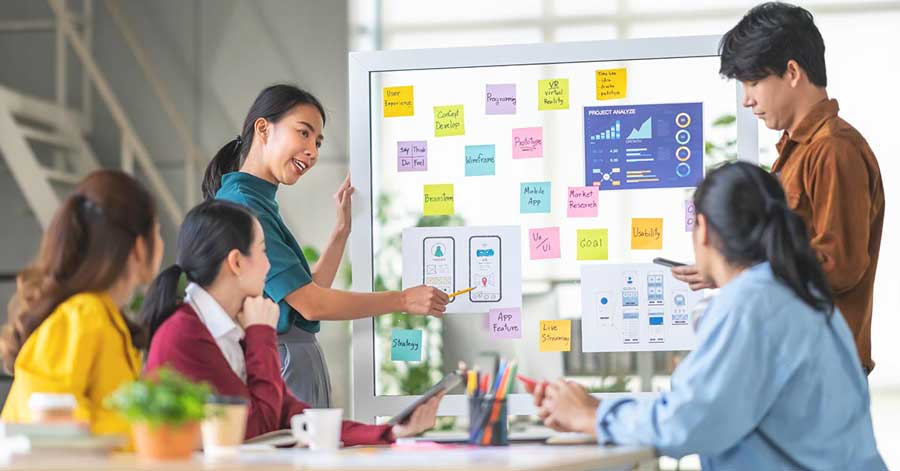 What Are the Roles of BA and UX Teams?
To understand how BA and UX teams can work together, we must first define their roles within the learning app development process.
The BA is responsible for managing all aspects of the product lifecycle, including research, requirements, and product management. Whereas, UX is a multidisciplinary team that is responsible for researching, designing, and prototyping the experience of using a product.
Both teams are equally important in the creation of learning products, but each team has different responsibilities throughout the product lifecycle. If a team isn't clear on its responsibilities, the team members will likely struggle to work together effectively.
How BAs and UX Designers Can Work Together
The best way for the BA and UX teams to work together is for each team to understand the importance of the other's role in the product lifecycle.
A clear definition of the responsibilities of each team must be laid out beforehand. Effective training and team workshops can help them understand each other's roles and dependencies better.
Business Analysts must own the responsibility of creating a full set of requirements and then delivering it to the UX team to execute. Throughout, they must collaborate with the UX team on a variety of activities, including story mapping, creating a backlog, and validating requirements based on the UX team's research findings.
The UX team must create their own set of user stories based on their research findings. And they must take the client's unique requirements into consideration when developing their deliverables.
It is imperative that both teams be open to receiving feedback and insights from each other throughout the product development lifecycle.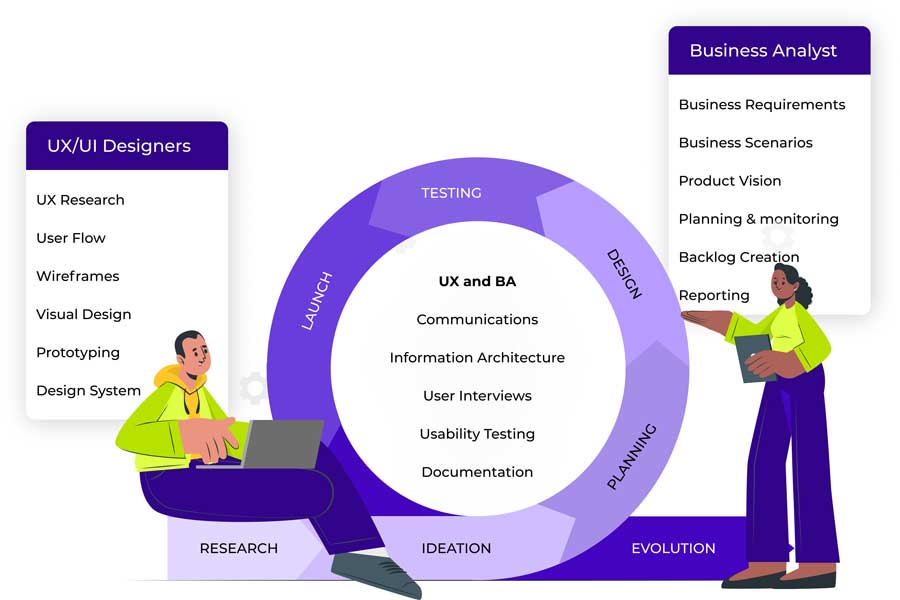 BA's Responsibility in the Learning Product Development Process
As a Business Analyst, you are responsible for collecting and documenting business requirements. Once those requirements are documented, you want to make sure that they are communicated effectively to the rest of the team.
That communication happens in a few different ways, including story mapping and backlog creation. Story mapping is a collaborative diagramming tool that the BA team can use to visually communicate requirements. Gaining buy-in from the rest of the team is critical to a successful application launch. It starts with validating the requirements that were gathered from stakeholders.
Designers are typically responsible for validating business requirements. When the UX team validates requirements, they do so based on their research findings.
UX Team's Responsibility in the Learning Product Development Process
As a UX team member, you are responsible for designing a solution to a problem based on the information that you've gathered about your users. Your team is also responsible for creating a prototype showing the solution to stakeholders.
When designing the application, you want to be sure to incorporate any requirements that have been documented by the BA team. However, you should also make sure that the prototype you create is based on the research you've conducted. You want to be sure that your prototype truly represents the needs of your users.
If you feel as though the requirements (or your prototype) are missing something, feel free to challenge it. You must let the BA team know if you think the proposed design doesn't truly represent the needs of your users.
Common Communication Barriers Between Teams
Communication between the BA and UX team members can break down for a number of reasons. When this happens, the teams are less likely to work together effectively to create a better application.
BAs and UX teams may not be clear about the deliverables that are expected of them.
BAs want to see a full set of requirements, but UX team members may not feel comfortable creating a full set of functional requirements. This is especially true when you are in the early stages of the design process.
BAs could also be unclear about the design process. They may expect the UX team to create their design and then pass it off to them to create a full set of requirements.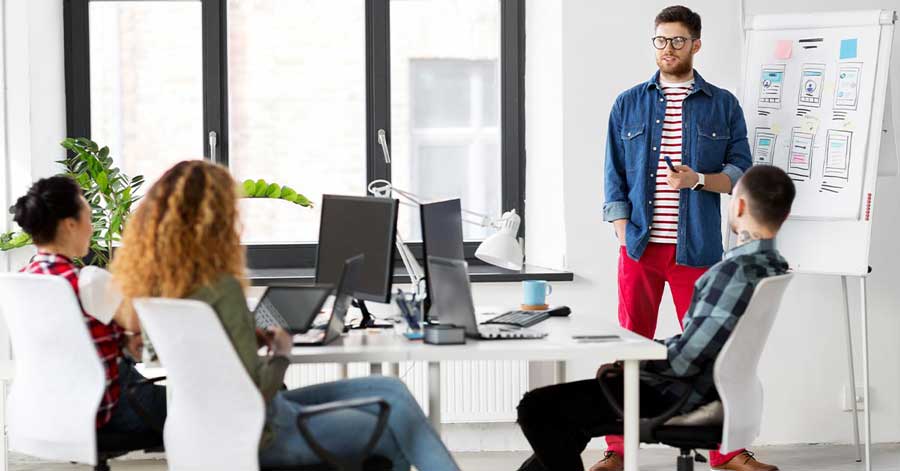 Defining Requirements Together
BA team members can help avoid these communication problems by defining requirements with the UX team. When BAs sit down with the UX team to define requirements, they can do so in a way that allows the UX team to feel comfortable sharing their design process.
When BAs work with the UX team to define requirements, they can create a design brief. A design brief includes the goal of the application, the target audience, any business objectives, and information about the product's features. The UX team can then use this design brief to create user stories and prototypes that truly represent the needs of the users.
Wrapping up
Every element is crucial to the success of a project, from idea to production and implementation. Every party contributes their share, resulting in a successful outcome. A good Business Analyst team is just as significant as a fantastic UX and UI design team. Collaboration is crucial, as it contributes to creating a learning product that is worthy of investing time and energy in.